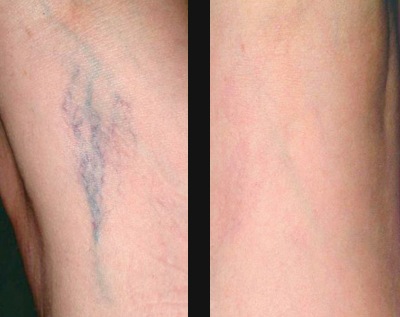 Spider veins and varicose veins are a reality for millions of Americans. Luckily, these unsightly problems can be treated with a special laser specifically designed to reduce the presence of veins.



When the valves in the veins weaken or malfunction, blood that normally flows toward the heart pools in the veins and the smaller capillaries, swelling and distorting them. The results are varicose veins (raised, often red or blue colored cord-like bulges throughout the legs) and spider veins (appearing as thinner red, blue, or purple broken vessels, frequently resembling the spidery legs of the insect for which they are named). Spider veins may appear on the face, legs, or torso.



Many factors promote the formation of varicose veins and spider veins:

● Blood flow under
abdominal pressure
during pregnancy

● Sun exposure


● Heredity

● Obesity



Laser or surgical reduction is often necessary to restore the cosmetic appearance of areas affected by spider veins and varicose veins. Once we determine whether vein reduction may be appropriate for you, we will walk you through the procedure, step by step, answer all of your questions, and show you how a quick and simple procedure may dramatically improve your appearance.



Call to set up a consultation with Dr. Hausen and begin the process of ridding yourself of those unsightly veins.

........................................... (516) 931-2525 ...........................................